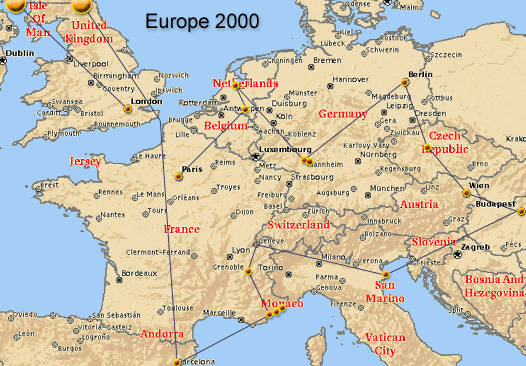 Paris, Calais, Dover, London (2000-07-13) Day 29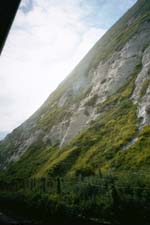 From Barcelona, switch trains in south France and again in Paris (taste the Paris Metro again), a train to Calais for a Ferry to Dover (The castle looking grand above the white cliffs), a train to London (a fresh Metro to sample), and a train to Edinburgh. Total traveling time: 31.5 hours. (I started reading Ryan's copy of Dune. He's still reading it, we cut the book.) Arrival time in Edinburgh: 12:03 AM. Arrival time at bread and breakfast: 1:06 AM. (Someone (not me) had a problem reading the map...)
Edinburgh (2000-07-14) Day 30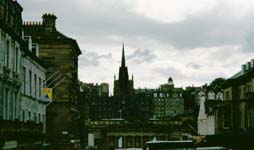 Scotland has had a wonderful first impression on me. I've decided to go `Lux, and have booked a three day tour of the Highlands. I spent the day touring Edinburgh and saw many wonderful things. I learned quite a bit about whiskey (but only had one drink of it, rather harsh stuff if you ask me). The architecture and history of this city is also very fascinating, I enjoyed the bus tour quite a bit. Ryan and I split ways today, he is heading down to London on a train this very moment.
Isle of Skye (2000-07-16) Day 32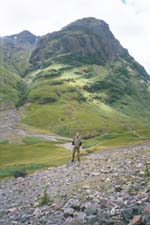 My three-day tour to the Isle of Skye has been fantastic! The highlands of Scotland are wonderful, and a freak of weather has produce three wonderfully clear sunny days here (not the usual). I've had a good refreshing fill of mountains, sheep, hiking, and the local beer [Tennent's Velvet, Guiness, Stella, & beer made from Heather] & whiskey (the whiskey is a bit strong for my taste though).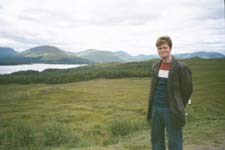 I've been traveling with a good Swiss friend I met, Reto Ackermann. He plays a mean mouth organ (harmonica) =) Up on the Isle we met Susanna from Berlin. She asks people what they think of Berlin and they say it's 'Interesting'. We found that common description interesting too. ;)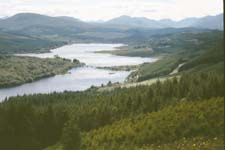 I've also been filling up on the local soft drink, IRN-BRU (contains Iron). I was also woken up by a little dog when sleeping in the grass one day. I've been going wow wow a lot (It's a dog's Bellen [Bark, in English]) And I've been told the meaning of the name of the first Dackel [sausage dog] I knew, 'Schatzi'. It is something a fine girlfriend would be called, similar to 'sweetheart' or 'cutie'.
I saw the Castle used in the Highlander film [Eilean Donan Castle], and climbed around the rocks and gardens of the real Clan MacCloud. I chased sheep down a mountain near the old man of Storr [rock formation], and took a boat about on Loch Ness. All this was so far north the sun lit the sky brightly until 10:30.

| | |
| --- | --- |
| | Now, back in Prague I had my toes painted by Julie. In Cannes I guy working in the kitchen recognized me by my feet, saying, "ahh, I knew it was you Vince, because you paint your toenails." |
| | |
| --- | --- |
| We also noticed that many Canadian's make sure you know they're not "American", by prominently displaying their flag... It really stuck out. | |
---