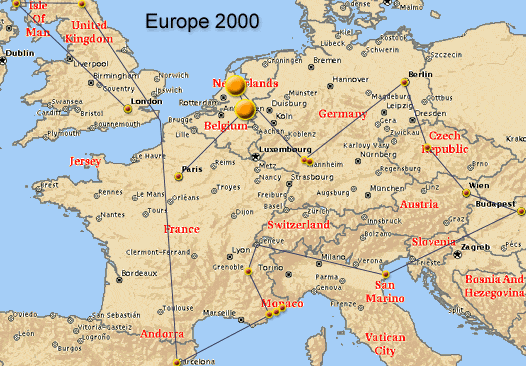 Eindhoven, Netherlands (2000-06-16) Day 4: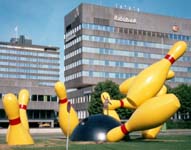 Ryan and I are in Eindhoven after taking the night train from Paris. The long night didn't afford much sleep, but we're feeling fine. I'm writing from Takeover 2000, which is GREAT! We spent the day in this city because we arrived very early. There was much to explore. Much more peaceful than Paris, it is similar to the midwest we are used to. The city however is more modern, and mixes a hearty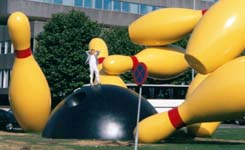 downtown with country landscape well. The crosswalk signs tick, so blind can cross safely, and there are roads specifically for bikes. We explored a great area of town with shops, which is prepared for the soccer fans. A game was played here yesterday, and tonight the Netherland's team won again! But, the true excitement is TakeOver. I'm in a large auditorium that filled instantly at the start with computers, speakers, and tech gadgets. Demo music is playing loudly everywhere. People are programming, composing music, creating art, and playing games everywhere. It's most excellent -- we have two full days for the competition part!
Eindhoven, Netherlands (2000-06-17) Day 5:
Party is just getting started, one day underway! It'll be a long night tonight!
Eindhoven, Netherlands (2000-06-18) Day 6: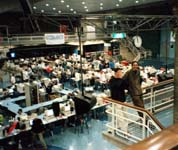 (blink, blink) Ok, so this is Sunday, I haven't gotten real sleep since Thursday morning. =) The party is STILL going strong, of course. The big competitions are yet ahead, but this is a good chance to get on the internet. I helped code parts of a 64kB intro* with a guy, which was rather cool. (He had all the dirty work done already, I just helped add effects.) It's been a great party here --- I'm going to sleep like a rock sometime very very soon. *--An intro is a very small executable program which plays music and makes cool colorful animations in real time (not prerecorded) on a computer.
Eindhoven, Netherlands (2000-06-18) Day 6:
Takeover finished. The main event demos were great, especially the first place winner VIP2! We had a really nice time here. I'm really happy with the Netherlands, everyone has been very very nice to us, and the country is beautiful.
Amsterdam, Netherlands (2000-06-18) Day 6: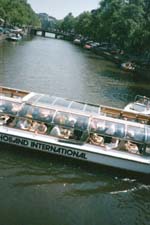 We arrived, barely awake, had some pizza, stopped by a coffee shop, took a short walk, and crashed for almost 12 hours of sleep. The stay was in 'Bob's Hostel', which is our first hostel stay in Europe. Not bad at all, in fact, a huge improvement from 30 minute naps sitting at tables at the party!
Amsterdam, Netherlands (2000-06-19) Day 7: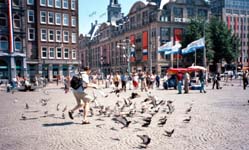 Ryan and I met up with Julie and Debbie in Dam Square. We walked south to Vondel Park (very large park). The city is very nice, trams run along the streets, and many bicycles. Later went to see Boom Chicago, an improve comedy show. They geared it heavily for both locals and tourists. Great time.
Amsterdam, Netherlands (2000-06-20) Day 8: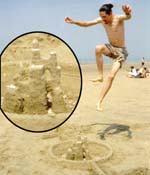 Went to the Zandvoort beach, a quick train trip from Amsterdam, with Julie and Debbie. I build a rather nice sand castle, two arches.. =)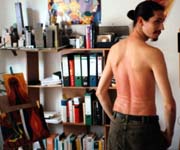 My back is rather red now.. however.. ;) It also seems that I had sun block lotion on my hands, and then placed them on my back, so I have two ghost hand marks (it turns out these stayed around for months).
Amsterdam, Netherlands (2000-06-21) Day 9:
Nice evening last night, tried some 'bubblegum' J, which was really nice! Brought a group of friends back to the hostel and played chess and whatnot. Met Claudia from Chile, who spoke only a little English. Speaking with her was interesting. We told her the Big Mouth Frog Joke too. Today Ryan and I saw the Anne Frank house. Rather moving. We're chilling a bit, the weather is cooler which is nice. Funny thing about Amsterdam is that we aren't seeing as many monuments &c, but more just having a good time. Netherland vs France tonight too!!! BIG GAME!
(Big Mouth Frog Joke: Debbie told this to us somewhere in Paris. She messed up and had to restart, which made it all the better. The joke is about a frog who always speaks REALLY LOUD WITH A BIG MOUTH, and asks the other animals what they do. The owl that he meets says, "I eat big mouth frogs," and the frog says 'oh' in a tiny little voice. Humor is in a grand performance with someone playing the part of the big mouth frog slowly with a nice gaping mouth.)
Amsterdam, Netherlands (2000-06-22) Day 10:
Bumps Ahead! "Let Op! Drempels!" (These signs were all over the Netherlands indicating speed bumps.) "The Sleepiest way to travel? The sleepy car!" The space cakes were quite a trip! Debbie writes, "Oranje 4-ever! Please vote for the oranje. Who is this going to? Will Vince still love me tomorrow? What if you fvcked you like a banana because I am shaking." [image of gnome on a snail = $]. "Are we still in Dam Square, or are we walking?"
---