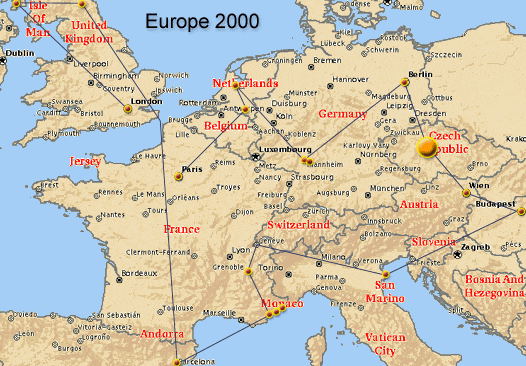 Prague (2000-06-26) Day 14: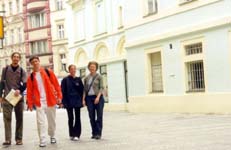 We walked towards the center of the city and found the girls once again on walkie talkies. These things are great!
Prague (2000-06-27) Day 14: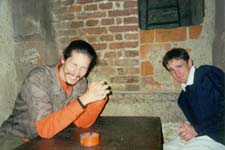 Ryan, Julie, Debbie, and I are drunk in Prague at 2:33 AM. We're staying up until sunrise with two chaps from Britain: Leigh, and Mark. Mighty fine time! Prague is great, the dollar goes a rather long way, and the nights are certainly exciting. We're at a disco right now, I just had a local shot of Beravkahojajajwhatever... and we ran into these computers and thought we'd do some Internet.

I started the night with Staropramen, an excellent beer. It's also interesting that the beer here is 10% - 12% alcohol. Some of the other have had large shots of Absinth. It is quite true… one has not properly experience Prague until one has wandered the labyrinth of streets in a drunken fog.
Prague (2000-06-28) Day 16:

We took a trip into the Petrinske Sady park. The view is excellent from there. A tower (similar to the Eiffel, but smaller) offers a breathtaking panorama. We also visited a hall of mirrors, played hacky-sack with a few Czech chaps, and went to a monastery. For dinner we had Mexican (the girls have been craving it), which was interesting. My chicken fajitas weren't really fajitas, but just the ingredients... very tasty, just not in the normal form. We've been having a very fine time with our money as well. The dollar is very strong here, a good meal costs $5 if you splurge -- the equivalent of a $15 meal at home.

Prague (2000-06-29) Day 17:
Last full day here. We went up the TV tower (something like 400 meters high, the viewing platform only at 100). Nice view. I strolled around some northern areas which are very non-touristy. Back at the Bohemian Bagel to do the internet thing. Yesterday's tour was mighty fine, the St Vitus church inside the castle is simply astounding -- the best I've ever seen. For dinner I finally had dumplings and pork roast, which was very good. The girls went on a ghost tour at night, while Ryan and I suckled on Bohemia Regent beer. Two litres filled me well, and we called it an evening.

---