Above, you can see 8 of the eigenvectors from the 201 face dataset. The eigenvectors can be thought of the most prominent directions in which the images vary. The first eigenvector is the average of all the faces. For this dataset, the properties captured by the eigenvectors can be described. The second eigenvector captures the overall brightness of the face in the picture. The third and forth capture direction from which the face was illuminated. The fourth captures a bit of face shape.

The rest of the eigenvectors (there are 201 of them) continue to capture more subtle details. The eigenvectors are ordered by the amount that the data is distributed by their direction.

The eigenvectors are obtained by a Singular Value Decomposition (SVD). From these, a set of vectors can be created which provide a basis for the dataset. Each image is a vector in 15,400 dimensions (140 x 110 pixels). The basis, created by taking the difference of each eigenvector (2 thru 201) with the first eigenvector, is of only 200 dimensions.

A distance can be calculated between each of the 201 images in this 200 dimensional basis. Then, a spring mass system can be constructed, such that a spring between each face has a rest length equal to the distance between the faces.

The spring mass system can be forced into only two dimensions, so that we may look at it easily. To do this, each face is given a random starting position, and then the spring mass system allowed to bounce around until it comes to a relaxed and stable state.

To the right you can see a plot of the spring mass system positions as they converge to a stable system.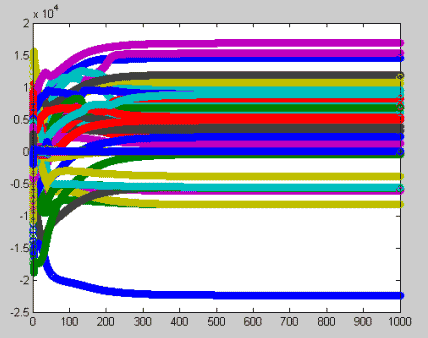 The convergence of the spring mass system for 16 images